by
Keiko
Posted in
Romans
|
4 Commentaires »
Strict Standards
: call_user_func_array() expects parameter 1 to be a valid callback, non-static method adsensem::filter_ads() should not be called statically in
/homez.34/geekdele/www/wp-includes/plugin.php
on line
166
Strict Standards
: Non-static method adsensem::filter_ad_callback() should not be called statically in
/homez.34/geekdele/www/wp-content/plugins/adsense-manager/adsense-manager.php
on line
245
Strict Standards
: Non-static method adsensem::filter_ad_callback() should not be called statically in
/homez.34/geekdele/www/wp-content/plugins/adsense-manager/adsense-manager.php
on line
248
Deprecated
: Function ereg() is deprecated in
/homez.34/geekdele/www/wp-content/plugins/whydowork_adsense.php
on line
332
Deprecated
: Function ereg() is deprecated in
/homez.34/geekdele/www/wp-content/plugins/whydowork_adsense.php
on line
340
Strict Standards
: call_user_func_array() expects parameter 1 to be a valid callback, non-static method GA_Filter::the_content() should not be called statically in
/homez.34/geekdele/www/wp-includes/plugin.php
on line
166
Strict Standards
: Non-static method GA_Filter::ga_parse_article_link() should not be called statically in
/homez.34/geekdele/www/wp-content/plugins/google-analytics-for-wordpress/googleanalytics.php
on line
440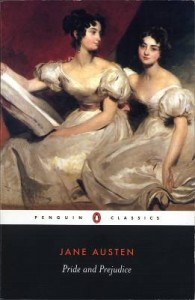 Pour les filles ou tous ceux qui veulent lire leurs classiques dans le texte original (ou pas) je recommande Pride and Prejudice, toujours aussi savoureux aujourd'hui.
Dans l'Angleterre du XVIIIème siècle, la famille Bennet est confrontée au défi de marrier ses cinq filles, car l'héritage reviendra à un cousin éloigné à la mort du père. Pas facile pour les deux aînées quand la mère est une mégère pas très maligne, que le père, cynique, a pour seule jouissance de rire des ridicules des autres et se désintéresse de tout le reste, et que leurs cadettes rivalisent de frivolité et de bêtise. La très belle Jane est pourtant réputée pour sa douceur et son grand coeur, et Elizabeth, du point de vue de laquelle l'histoire est racontée, brille par son intelligence, mais aussi son caractère entier et provocateur.
L'histoire commence avec l'arrivée dans la région de Mr. Bingley, riche et avenant, et surtout célibataire : il devient immédiatement la proie de l'ambitieuse Mrs. Bennet pour marier une de ses filles. Il amène avec lui le fier (et immensément riche) Mr. Darcy. Autant Bingley est adulé par tous, autant Darcy est détesté pour son comportement orgueilleux et hautain.
Pourtant, le destin de toute la famille Bennet sera scellé avec celui de ces deux personnages. Les rapports entre la modeste famille Bennet et les deux familles  nobles seront marqués par la fierté, les préjugés, la haine, mais aussi l'amour…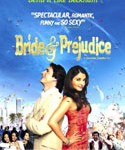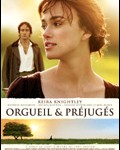 Pride and Prejudice est un roman d'amour merveilleux qui brosse des personnages presque vivants, des rapports sociaux complexes et surtout, et c'est l'originalité pour l'époque, la conscience d'un personnage. L'histoire inspirera le courant romantique ainsi qu'un nombre immense de  romans sentimentaux. Récemment, elle est adaptée assez fidèlement par le film Pride and Prejudice (2005) de  Joe Wright avec Keira Knightley, transposée dans un contexte indien par Bride and Prejudice (Coup de foudre à Bollywood) ; enfin, on reconnaîtra dans Bridget Jones's Diary l'inspiration du roman de Jane Austen.